After not getting all that much sleep (due to the air conditioner problem in our hotel), we got up and had a pretty casual morning. At this particular bed and breakfast (Vicolo dei Pescatori), the morning meal isn't served at the hotel. Instead, the owner provided us with vouchers that could be used at three different cafés in the area. We chose Bar Principe 2, and it ended up being quite nice. We had the usual coffee and tea, and I got this amazing tart that had Nutella and white chocolate cream. Honestly, I could eat that thing as the day is long. My waistline wouldn't be too happy about it, but my taste buds would be! 🙂
After breakfast, we drove about 35 minutes southwest to the town of Cerveteri in order to see a very cool UNESCO World Heritage Site known as the Necropolis of Banditaccia. It is essentially a "City of the Dead" for the Etruscans, and is comprised of hundreds of tombs, one seemingly more elaborate than one before it!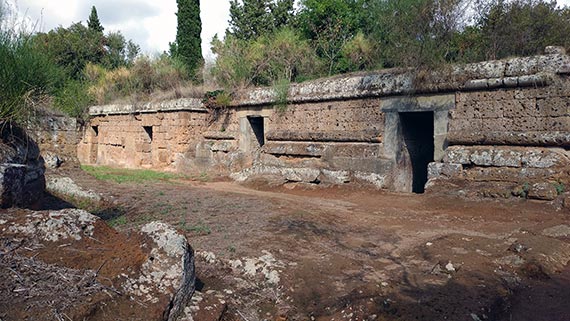 Click to enlarge
It was raining off and on, so getting photos was more difficult than usual. However, the tombs were fascinating. In my opinion, though the full site is quite large, it is much of the same, so allowing for 1-2 hours there is sufficient. The land itself was certainly beautiful (as is much of northern Lazio).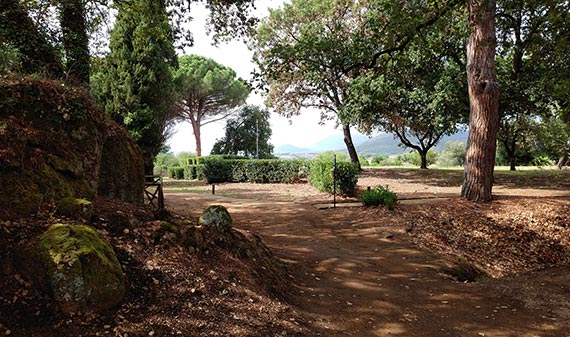 Click to enlarge
We drove back to Anguillara Sabazia and spent the remainder of the day just walking around town and looking at the calming Lake Bracciano. I spent some time setting up my tripod and other equipment so that I could take multiple exposures in hopes of doing some HDR tone mapping. It's a photographic technique with which I haven't had much experience, but in a nutshell, it requires taking many shots (to varying degrees of under and overexposure), and combining them in order to increase the dynamic range of a photograph. I haven't yet had a chance to play around with the photos that I took, but here is the "correct" exposure of the town: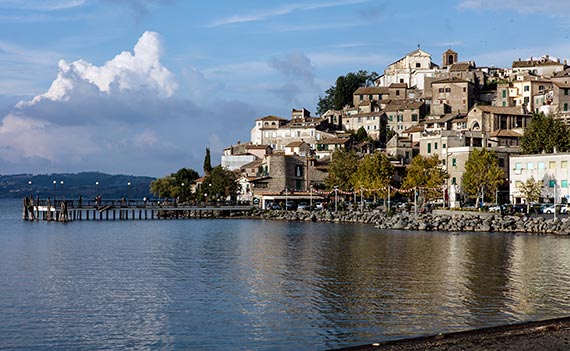 Click to enlarge
It's beautiful in and of itself!
We again made the drive to the neighbouring town of Bracciano because our dinner last night at Pane e Olio was so incredibly delicious that we wanted to experience it one more time before ending our trip to Italy. We tried ordering a different starter of fried lake fish, and that was a mistake. So, we instead went with the fried pizzas again. I, not wanting to miss my last chance of having real Carbonara (see yesterday's post) ordered it again. Deb, however, changed it up and went with a pasta that had pork cheek and pistachios. My favourite thing about her dish was the pasta that was used, which was like Pici—a thicker, more doughy pasta with some weight to it.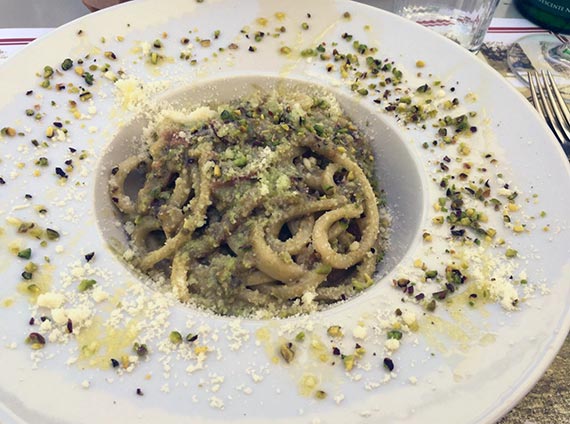 Click to enlarge
We went back to Gran Caffe Principe di Napoli, and this time ordered a pistachio tart to take away with us to the hotel. We enjoyed it immensely, and had some wine on our balcony overlooking the lake. Not too shabby for our last night in Italy.
Cheers,
Zach