Today we were up before the sun so that we could get ready for our trip to Capraia Isola, which is a very small Tuscan island (with a population of ~400) off the coast of Livorno. We drove from our hotel to the port city of Livorno, and parked our car at S.T.P (Servizi Turistici Parcheggi), which we booked ahead of time using ParkVia. I didn't really see any need to have a car on the island, and the price for parking for a couple days was vastly cheaper than paying to take the care on the ferry with us.
We then walked to Porto Mediceo, which was a little confusing only because I thought that our Torremar ferry departed from Porto Livorno instead. Other than that, it wasn't that bad of a walk. Last night, we packed all the clothes and things that we would need into one smaller suitcase, which made it even easier to get our luggage onto the ferry. We did that, in part, because of the weight limit of 20kg per for each person, but found out that that rule wasn't very strictly enforced anyway.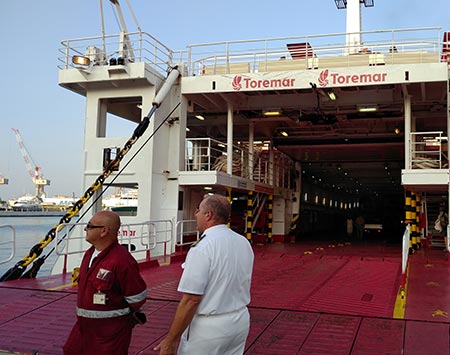 Click to enlarge
The ferry only took 2h45m to get from Livorno to Capraia, and the journey didn't seem long at all considering how luxurious it was! There was a full bar, café, children's play area, and extremely comfortable seating inside.
When we arrived at Capraia, we quickly found out that it is separated into two sections: the Port and the Village. Obviously, the ferry arrives in the Port area. There are many shops and restaurants in the Port, but the Village is the location of the few hotels on the island. Upon our arrival, a staff member from our hotel (Il Saracino) loaded our luggage into a car, and drove us up to the Village.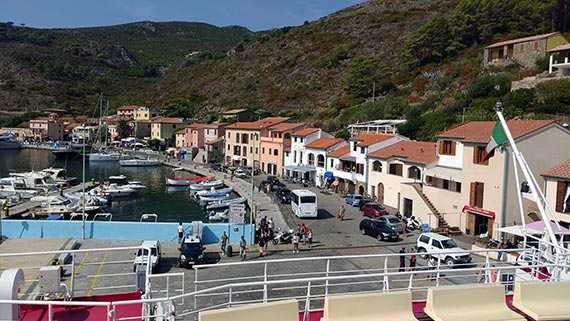 Click to enlarge
After unpacking our bags, and settling in, we basically walked around the Village and Port areas just taking in the beauty of the island. We found that many places close in the afternoon, and reopen later in the evening. One place—La Gelateria di Capraia—stayed open most of the day though. We stopped in for a snack (gelato, of course). This place offered some really interesting flavours, like sweet biscuits (small cookies mixed in), and shaved chocolate. It was really refreshing, and nice, especially seeing as the portions were quite large for only €4! The owner was also really hospitable and friendly (as were most people on the island).
We continued walking around the Port and Village (as 90%+ of the island is undeveloped), and it seemed like every single place was photo-worthy! We saw two of the primary attractions, Forte San Giogio (but only from the outside), and Torre del Porto. We had a beautiful view of the Tower from our hotel room.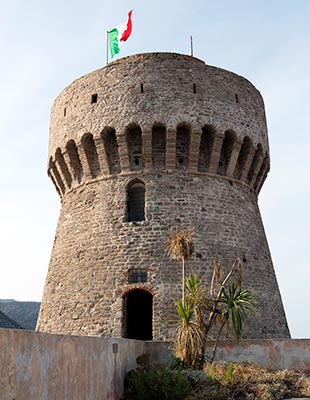 Click to enlarge
We found the one small store in the Village, which is Minimarket Cerri Stefano, located just a couple blocks east of San Nicola church on Via Carlo Alberto. We picked up some wine there to take back to the room, and I bought some mini Nutella tarts, because apparently I'm addicted to them. After dropping off our wine and desserts at the hotel room, we just took a quick look around the property before going back down to the Port to find a restaurant for dinner. The Il Saracino hotel property was really stunning, and had some wonderful views of the sea. There were also many beautiful places to sit and just overlook the water.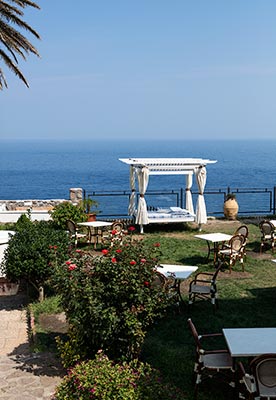 Click to enlarge
We walked back down to the Port to try to decide on a restaurant for dinner. Instead of taking the main road that connects the Port and the Village, we found a small side trail that is only suitable for walking. Not only was it more comfortable to walk on this trail, but it offered some really nice views of the sea and Port.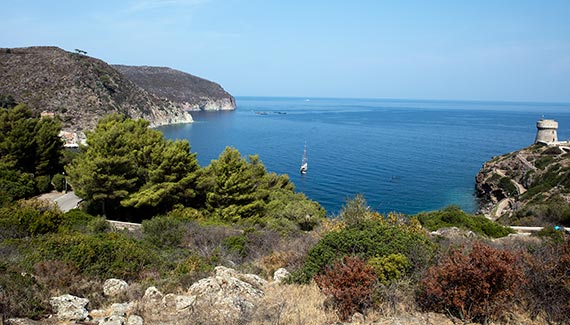 Click to enlarge
Once we got back down to the Port, we had a look at the menus of the various restaurants. Many of them looked good, but we narrowed it down to Cherie, or Al Vecchio Scorfano. We had also considered Nonno Beppe, but it was only open on the weekends during shoulder season.
We ended up eating at Al Vecchio Scorfano because the menu looked great, they opened earlier than Cherie, and the waitstaff was very welcoming. We were both really happy with our restaurant decision! We started off with some grilled vegetables, which were quite flavourful (we had both been missing them on this trip). I then ordered Penne con pesto, and it was some of the best pesto that I've had… ever! The pasta was cooked perfectly, with a very nice chew to it, and the pesto was unbelievably flavourful and bold. Deb got a Penne with grilled squid, and enjoyed it as well. It was more fishy than the squid dish that we had at That's Amore in Rome, but it was very fresh. We also split a bottle of Falanghina at the restaurant. We enjoyed the meal so much that we asked the owner if we could go ahead and make reservations for tomorrow night as well. She seemed delighted, and welcomed us back the following night.
We walked back to the hotel, and had our wine on the edge of the world (near the hotel's pool) overlooking the sea. It was truly beautiful, and the staff at Il Saracino was more than accommodating by giving us some of their wine glasses to use, even though we didn't purchase the wine from them. Our first day in Capraia was very nice, and I'm looking forward to the adventures of hiking some of the island's trails tomorrow.
Cheers,
Zach