This past weekend, a colleague and friend of mine talked me into going to a place in Durham, NC that is famous for a somewhat unusual pairing of two foods: fried chicken and waffles. Saturday evening after the wine tasting, we headed to Durham to eat at Dame's Chicken and Waffles. If you haven't had this combination before, you should certainly try it, as it combines the salty / savoury wonder that is fried chicken with the sweet breakfast treat of waffles.
To start off, I had a side of grits, which is a southern dish that is made from coarsely-ground corn or hominy. I've had grits many, many times in my life, but their take on it was a little different. Usually, I eat them in one of two ways (although there are many other ways to prepare them): with just a pinch of salt and a lot of black pepper, or with stewed tomatoes. At Dame's, however, they made them with some butter (probably a lot of butter), which made them very creamy: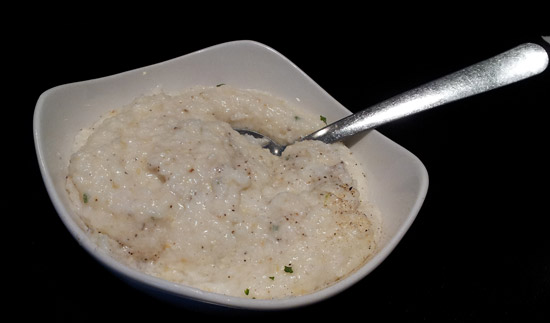 Click to enlarge
Though the grits were some of the best that I've had in a very long time, the main course was the part that shocked me. I ordered the Orange Speckled Chabo, which is a sweet potato waffle with a fried chicken cutlet on top: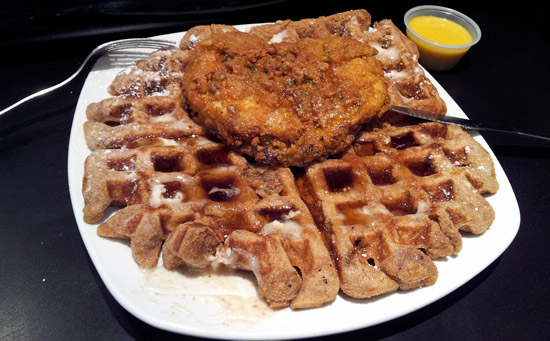 Click to enlarge
With every dish, you get to choose a shmear, which is a ball of butter with some other ingredients worked into it. Those ingredients change the flavour of the butter mixture, and they can be either sweet and/or fruity. I went with the vanilla-almond, which was a good choice for the waffle. However, part of the way through, I decided that I wanted to try the chocolate-hazelnut, so I ordered it. If I had to have a gripe about the experience, it would be that I was charged $1.25 USD for the extra shmear. In my opinion, that is absolutely insane, as it is essentially just a small ball of butter (which you can see in the picture below).
Nonetheless, I finished off the entire meal, and left completely satisfied (and miserably stuffed). 🙂
Click to enlarge
Overall, though it is certainly not a type of food that I eat very often, Dame's was a nice treat and deviation from my normal routine.
Cheers,
Zach