As with most cities, Saint Louis has a plethora of places to get a cup of coffee and some pastries or treats. The vast majority of those places are good, some of them are great, even fewer are exceptional standouts, and the top-tier is comprised of those that are truly remarkable. In my opinion, Comet Coffee and Microbakery finds its way into that heralded top tier. What determines whether or not a coffee shop or café earns that high of marks, you ask? Well, to some degree, that's up to individual preference. For me, the criteria are:
A relaxing and inviting environment
Friendly and talented people
Exceptional food and beverage quality
First and foremost, I look for the environment that the coffee shop provides. Having a rather hectic work schedule, I like the idea of a place that I can go to unwind and just enjoy some of the more simplistic pleasures of life. Comet Coffee offers the small, intimate café-style setting that fits the bill for me. There are five or six individual tables and some longer benches inside, and a handful of tables outside on the front patio. Though the smaller space sometimes leads to crowding and a bit of a "hustle and bustle" feel, it doesn't ever seem distracting. Also, during non-peak times, it tends to be quiet and peaceful.
Secondly, a café—or any other eatery, really—is about more than just the space itself. The employees make all the difference! At Comet Coffee, everyone is exceptionally talented in their craft, and it's apparent that they deeply care about not only the customers they're serving, but also the food and drinks that they're making!
| | |
| --- | --- |
| Gretchen starting a latte | Daniel making a pour-over coffee |
Thirdly, it should go without say that the food and drink quality are incredibly important factors for any café. At Comet, the coffee choices are seemingly limitless, so there are options that will satisfy any taste. Just in pour-overs alone, there are several different roasters (like Kuma, Sweet Bloom, Intelligentsia, Saint Louis's own Blueprint, and others), from whom Comet offers an ever-changing list of varieties based on region (South American, African, et cetera). In addition to the pour-overs, there are many of the other coffee shop standards like lattes, espressos, macchiatos, cappuccinos, flat whites, and so on. Coffee's not your thing? That's fine too because they have an excellent and extensive selection of teas, ranging from the standard blacks, whites, and Darjeelings, to less common Oolongs, and my personal favourite green tea— the Genmaicha, which combines the delicate green tea flavours with toasted rice.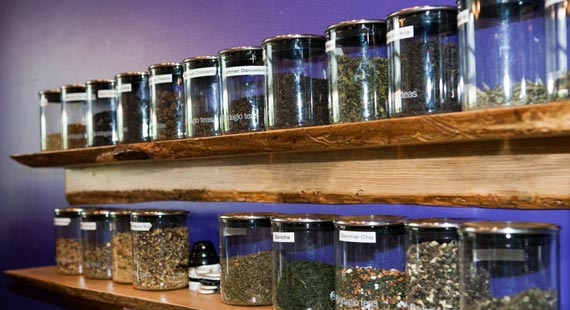 So between the coffees, espressos, and teas, you shouldn't have any problem finding a beverage for any occasion or mood. But it isn't just called "Comet Coffee", it's "Comet Coffee and Microbakery." Though it almost sounds like an afterthought to the coffee, I assure you that the pastries and other baked goods share the stage as costars, and ones that often steal the show! There really isn't a way for me to describe them that will do them justice. As someone who follows a rather rigid eating regimen, I won't settle for anything less than stellar desserts and treats. That said, I've been blown away by every… single… one of them.
| | | |
| --- | --- | --- |
| Oat Cookies | Strawberry Rhubarb Pie | Strawberry & Chocolate Ganache Macarons |
| Buckwheat muffin – Strawberry & Pistachio | Tomato, Basil, & Mozzerella Quiche | Chocolate Chip Cookies & Cocoa Nibblers |
You should definitely click on each image to view them in full size
Though I like essentially all of the treats, I do have my favourites. I tend to get the Oat Cookies most often because they are simple and fulfilling. One time, though, I went to Comet on a Sunday afternoon and the
only
thing left was a Buckwheat Muffin. Knowing that they simply don't make any bad pastries, I went for it. Little did I know that it would become my
absolute
favourite! The baked goods vary with the availability of seasonal and local ingredients. For instance, the spring iteration of the Buckwheat Muffin is Strawberry Pistachio, but the previous one (which was
insanely
delicious) was Milk Chocolate & Hazelnut (think
Nutella
done in the best possible way). 🙂
One other testament to the quality of the treats is that Comet makes a few items that I have never liked anywhere else. For instance, I'm not a big fan of scones because they tend to be dry and often have the texture of coarse-grit sandpaper. However, the Lemon Poppy seed Scone and the Pear, Walnut & Goat Cheese Scone are both moist and satisfying. Likewise, I don't really think much of Macarons, because they're so light. These ones, however, have some substance to them and don't make me think of overpriced cotton candy.
Okay, so now that I've sold you on Comet's drinks and baked goods, here's a little background about this great place. I recently had the opportunity to sit down with owners Mark and Stephanie, and talk with them about Comet's past, current endeavours, and their future plans.
Coffee is about subtle nuances, and it can be continually improved upon. With all those nuances, I like it when one particular flavour note pops out.–Mark
Comet Coffee first opened its doors in August of 2012, and Mark immediately started renovating in order to align the space with his visions for the perfect shop. He and his fiancée Stephanie had worked together at Kaldi's Coffee beforehand, but were inspired to open their own place. Between the two of them—Mark holding a degree in Economics, and Stephanie with degrees in both Hotel & Restaurant Management as well as Baking & Pastry Arts—the decision to foray into the industry together seemed like a given.
Mark had originally anticipated calling the shop "Demitasse," after the small Turkish coffee cup by the same French name. Stephanie, though, did some research on the area of Saint Louis in which the shop is located (where the Forest Park Highlands amusement parks used to stand), and eventually found out about The Comet roller coaster. The name pays homage to those parks, and may have even been a little hopeful foreshadowing that the shop would become a well-established staple of the community.
When asked what separates Comet from other coffee shops, Mark readily mentioned that they themselves do not roast their own beans. He explained that doing so "requires purchasing [beans] in large quantities," and that would disallow them from varying the coffee choices day-to-day. Similar to Mark's comment about the quest of continuously improving the coffee experience, Stephanie indicated that the key to baking is to constantly modify the recipe based on the freshest available ingredients.
There are no compromises when baking. You must be meticulous with measurements, and you have to taste throughout the process to make adjustments.–Stephanie
Mark and Stephanie are currently in the process of opening an ice cream and bake shop in the Kirkwood area, and plan on carrying many of those items at Comet as well. Looking further to the future, Mark would like to open a doughnut shop where everything is made to order. His rationale—which, being a doughnut connoisseur myself, I find to be completely sound—is that everything fried needs to be as fresh as possible.
I, for one, can't wait to try the new ice creams that Mark and Stephanie will offer in their Kirkwood location. For now, though, I will continue to enjoy the outstanding brews and unparalleled pastries at Comet Coffee. It has become a weekly go-to spot for me, and one that I look forward to greatly for unwinding after those difficult "Monday through Friday" stretches.
| | |
| --- | --- |
| Macchiato and Seltzer | Pour-over brew |
Cheers,
Zach
 
P.S. No time to leisurely enjoy the excellent café atmosphere? No worries, at least grab one to go. It will definitely beat what you can get from any of those chain coffee shops. 🙂