I am no stranger to Indian food, as it is among my favourite types of cuisine (along with Thai and Vietnamese). Having been back in the Saint Louis area for two years now, I have tried many different Indian restaurants, but have been disappointed for one reason or another (price, variety of regional dishes, a lack of distinct flavour profiles, et cetera). Please don't misunderstand me; there are some good, and even some great Indian places in and around Saint Louis, but they have all somehow fallen a bit short. For instance, here are some such places:
India's Rasoi – great, but expensive, and no buffet
Haveli – pretty good buffet, but lacking some variety
India's Kitchen – decent buffet, but inconsistent; nothing stands out
Copper Chimney – pretty good, but not all that many options
Saffron – decent buffet, but again, not all that many regional options
That list is in no way exhaustive, but I think that the theme will be evident—they're good, but not "stop you in your tracks" good. Having lived in some regions of the country that have a plethora of exceptional Indian restaurants, I was constantly on a mission to find The Best Indian Restaurant in Saint Louis! My search has yielded a winner: Peshwa Indian Restaurant.
I went with my dearest friend and fellow foodie, Debbie, very shortly after owner and executive Shweta Marathe opened the doors to her wonderful new eatery. As of the time of this blog, we have been back six times in just a few short weeks! Why go back so often (other than the obvious reason of the food is incredible)? Variety. Peshwa constantly has new dishes on the buffet, all stemming from the myriad regions of India. Ms. Marathe brings her unique take on these dishes, and spices them up (pun intended) with influences from her native region outside Pune, which is near the Western coast of India (southeast of Mumbai).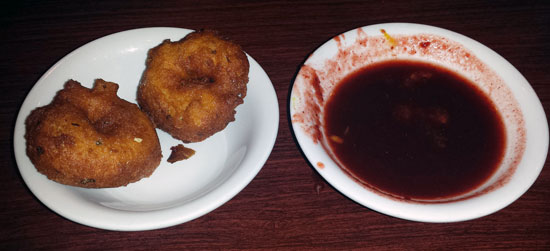 Vada with tamarind Chutney
(Click to enlarge)
This most recent time, we started with some Vada with Tamarind chutney. Vada are these wonderful little doughnut-like delicacies from South India, and are typically made from Urad dal and gram flour. I can't say if these ones were made primarily with dal or lentils, but they were delicious. As with many dishes (not just from India), the sauces make or break them. The tamarind chutney at Peshwa is the best that I've ever had. It has the sweetness (from the dates) that I've come to love but haven't found at other places.
Other appetisers that we've had in the past are Idli, which are typically eaten as a dense breakfast food accompanied by a coconut chutney. When I was discussing with Shweta how much I enjoyed these cakes made from Urad dal, I mentioned coconut chutney. She educated me and let me know that they are also eaten with Sambar. I tried them that way, and it was a completely different experience! At the same time, she was back in the kitchen whipping up some coconut chutney (now THAT'S service)!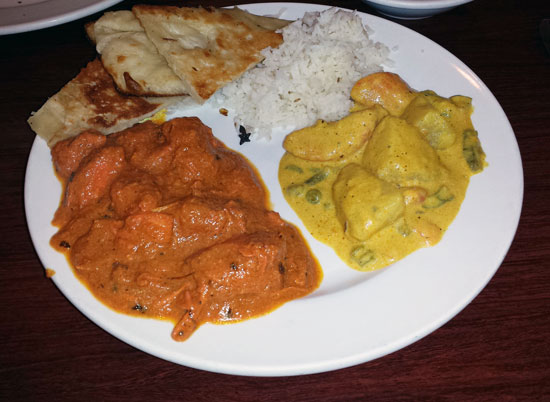 Chicken Tikka Masala, Vegetable Korma, Naan, and rice
(Click to enlarge)
For entrées, Peshwa offers far too many to list, including some wonderful vegetarian and vegan dishes. The first few times that we went, one of the primary chicken offerings was Butter Chicken, which is great, but not my favourite. That being said, this was outstanding (not overly oily, like it has been at some other places). After talking with Shweta, she agreed to make Chicken Tikka Masala for me at some point (since it is one of my absolute favourites). I used to think that India's Rasoi had the best in the area, but it has been surpassed in my opinion. At Peshwa, there is not as much sauce, but what is there is infinitely flavourful. The pieces of chicken are so tender that one doesn't need a knife at all.
Typically, Vegetable Korma is enjoyable, but not something that jumps off the buffet line onto my plate as readily as some other choices. At Peshwa, though, I believe that it is one of the absolute best dishes available. It is creamy and has a flavour profile that is both subtle and complex.
Many other main dishes are available on the buffet as well. You can find staples like Tandoori Chicken, various styles of Biryani, Vindaloo, as well as some lesser-known dishes and even Indian Chinese dishes, which are really something special!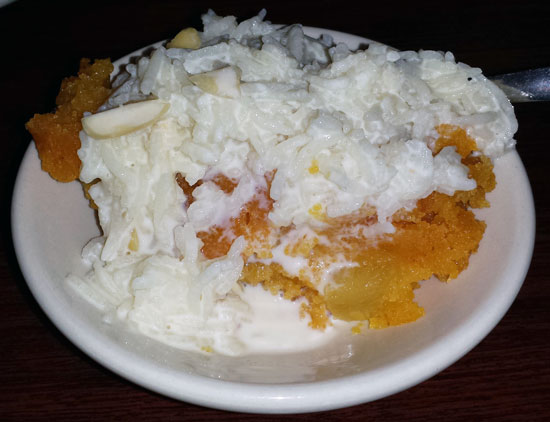 My own mixture of Pineapple Sheera and Kheer rice pudding
(Click to enlarge)
Now, after indulging in those wonderfully complex and sometimes spice-filled entrées, one wants (or even needs) some desserts to cool down the palette. At Peshwa, there are usually two or three desserts available, and they're constantly being rotated out for different ones. One of the recent times that we went, I was excited to see that two of my favourites (Pineapple Sheera, and Kheer) were both available at the same time. One thing that I love to do, (even though it's not very traditional), is to mix the two together. I really enjoy the juxtaposition of the warm Sheera and the cool Kheer, as well as the combination of two different textures. Now, Kheer comes in many different varieties, and I have had two of them at Pesha. This particular day, it was the Kheer that is more like a rice pudding with shaved almonds. One previous time, another outstanding dessert was on the menu: Gulab Jamun, which can be found most often in Western India.
I would be amiss if I neglected to mention one special dessert that I've only found at Peshwa—the Mango Mastani. This refreshing flavour explosion is native to Pune and surrounding areas, and is made from mango (duh), cold whole milk, sugar, ice cubes, and mango kulfi. It is basically like a mango shake / float with a big scoop of mango kulfi (ice cream-like) in it. Nothing can prepare you for the immense flavour of this outstanding dessert. The only problem that you will have (if you're like me) is leaving room for it at the end of an otherwise excellent meal.
If you've stuck with me throughout this entire review, you'll easily know that I think VERY highly of Peshwa. Not only has every dish I've had there been incredible, but the service is great as well. Deb and I keep joking that one day we'll find a dish that Shweta and her staff don't do well, but we've yet to find it. If I had to come up with a fault of the restaurant, I would have to be nitpicky to an extreme. Doing so, though, I would say that it would be nice to have some more ice in the water, but I understand this is a typically Western idea.
Do yourself a huge favour, and check out Peshwa Indian Restaurant at:
10633 Page Avenue (click for directions)
Suite B
Saint Louis, MO 63132
As of this writing, they are open from 11:30 until 20:30 (8:30 PM) every day but Tuesday.
Cheers, and happy eating!
|:| Zach |:|