Last night, I decided to try a different Thai restaurant in Durham, NC. Bangkok 54 is technically in Chapel Hill, NC, but it is so close to interstate 40 that it is really six or one-half dozen. The first thing that I immediately noticed when I went inside is that they didn't have the air conditioning on. Yesterday, it was approximately 38°C (~100°F), so walking into a restaurant that was only slightly cooler than it was outside really didn't help the appetite. Anyway, though, the restaurant is a bit on the small side, with about twelve tables or so, the front bar (which didn't offer seating), and the kitchen behind it.
I went to Bangkok 54 because I was really craving Pad see ew (ผัดซีอิ๊ว in Thai, also known as Phat si io), which is a noodle dish that is heavily influenced by Chinese cuisine. It literally means "Fried soy sauce," but the soy sauce is not the typical thin sauce typically produced by companies like Kikkoman and found in bottles in just about every Asian restaurant globally. Instead, the sauce used in Pad see ew is called Kecap Manis (pronounced KEH-chup MAH-nees), where Kecap simply means sauce. It is a thicker glaze that has the consistency of molasses, and a sweeter taste than the other soy sauces. In with the broad rice noodles and Kecap Manis, they mixed Chinese broccoli, egg, and (in this case) chicken (I know it's strange that I didn't go for tofu, but they deep-fry theirs, which is a big turn-off to me).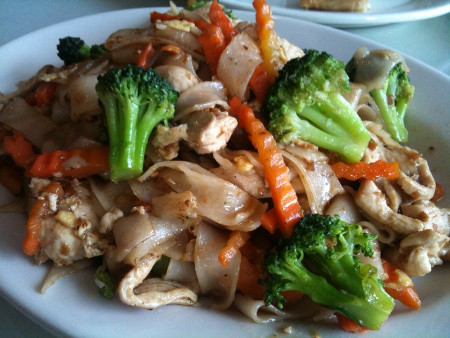 A typical plate of Pad see ew
(Unfortunately mine wasn't as elegant)

Anyway, the dish was decent at best. The noodles were cooked for slightly too long, (which resulted in the infamous noodle blob), and the chicken was a little tough (also indicating too long of contact with the wok). The worst part, in my opinion, was that they used far too much oil in the dish. Granted, one needs to use some oil in order to get the correct consistency, but this was bordering on greasy. The portion size was pretty big, but not for the price of nearly $11.00 USD. I would have expected a little more refined of a dish, especially for the price and the reputation of the restaurant. Though I was glad that I found a place serving one of my favourite Thai dishes, I don't think that I can recommend it due to the atmosphere (incredibly hot), the somewhat small portion for the price, and the quality of the preparation.
Cheers,
Zach