Tonight was an outstanding evening for me, as I got to experience The Iron Giant in the theatre again, just like I did 16 years ago in 1999. The film has been enhanced, and it was brought back to theatres across the United States by Fathom Events for one night only: 30 September 2015 starting at 19:00 local time.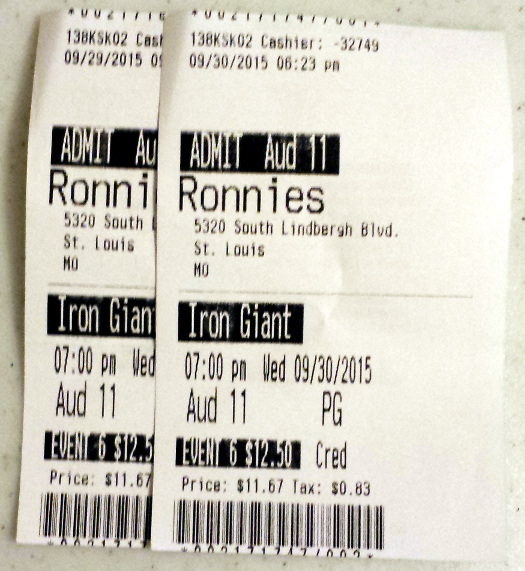 The Iron Giant: Signature Edition ticket stub
If you haven't had the honour of seeing Brad Bird's (Animator of The Fox and the Hound, and writer/director of some greats like The Incredibles, and Ratatouille), then please do yourself a favour, and find a copy (either an older version to buy, or even stream it). It's a truly remarkable film that spoke to me when I first saw it as an adolescent years and years ago.
Back in 1999 and for some years to come, I couldn't get enough of The Iron Giant because I loved the hand-animated artwork, the incredible story, and some of the great one-liners and comedic scenes. Thereafter, it slipped to the back of my mind, but was never really forgotten. Then, several years ago, I got the joy of reliving it and experiencing it with a really great kid. It took on a completely new meaning to me when I saw the remarkable lessons that it taught—love conquering fear, being who you are, and doing everything within your power to help people.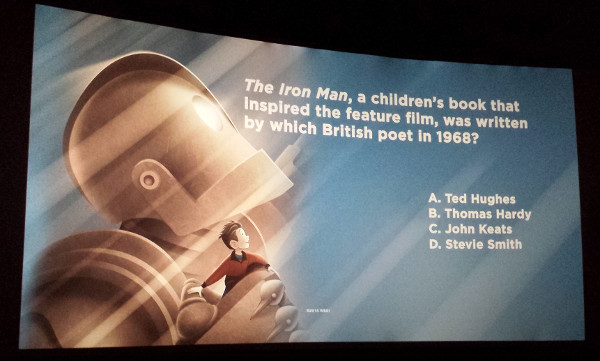 The Iron Giant and Hogarth Hughes
(Click to enlarge)
This time around, I got to see it (and introduce it) to my best friend in the world. She also enjoyed it (but, of course, I knew that she would). 🙂 Before the film started, they were showing various trivia questions about it (like in the screenshot above). I knew most of them, but this one in particular was really cool. By the way, the answer was Ted Hughes, which made Hogarth's name even more significant. All in all, I can't think of a better way to spend an evening than with a great friend, a fantastic film, and a hefty dose of nostalgia.
Cheers,
Zach