When I moved back to Saint Louis with my current job, and started working from home, it became readily apparent that I would need a decent office chair (sitting on one of my chairs from the less-than-great dining room table would certainly not be ideal). After looking at a bunch of different options, and realising that I'm not going to spend $1000+ USD on a Herman Miller Aeron, I found some great choices on Amazon.
I finally settled on the 86200 model Executive Mesh-back chair from Lorell: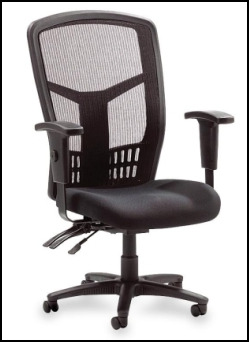 For the price, the chair is actually incredibly well-built. Is it an Aeron? No, of course not, but it also doesn't carry nearly the same price tag with it. That being said, it also doesn't feel like a cheaply-made knock-off. The only part of the build quality that is somewhat questionable is the armrest construction. They have plastic shields and are rubber-stamped on the top, but they do serve their purpose nicely. I would like a little further adjustment capabilities on them, but they are what they are. The only other qualm that I have is that the chair makes a bit of noise when moving around, or leaning back. I believe that these sounds are related to the two adjustable nuts near the chair's base, but I haven't thoroughly tested that idea.
Assembly of the chair was incredibly easy and straightforward. I did find it a lot easier to do with the help of one other person (for holding the back of the chair in place whilst attaching it to the base, et cetera). If you don't have help, though, it would be easy enough to do by one's self. There was one piece of plastic that served no useful purpose, but only an aesthetic element. I chose to not screw that piece into backing of the chair (maybe that's the engineer in me).
More important than the build quality and the ease of assembly, the seat is very comfortable, even for the 8-10 hours per day that I am in it. I don't find that I struggle to stay comfortable during that time. Also, the lumbar support and backing are both stronger than other chairs that I have used in the past. Given that I have had trouble with my middle back in the past, I'm pleasantly surprised that I don't experience any discomfort in that area throughout the day.
So, if you are in the market for a good office chair, but don't want to spend a huge amount of money, I recommend that you at least look into the Lorell 86200. It is nicely built, easy to assemble, and I find it to be one of the most comfortable chairs in the price range.
Cheers,
Zach