Today, we woke up and were greeted by another sunny (and hot) day in Rome. The schedule today was a bit more lax than yesterday, but there were still several things that I had on our "to-do" list. We started out by walking to Bioparco di Roma (Rome's zoo), which was about 35 minutes from our hotel. As the zoo is situated in the northern portion of the beautiful Borghese Park, we took our time getting there. It ended up being much like Saint Louis in the fact that the zoo is surrounded by a nice park (in our case, Forest Park) with lots of pretty scenery.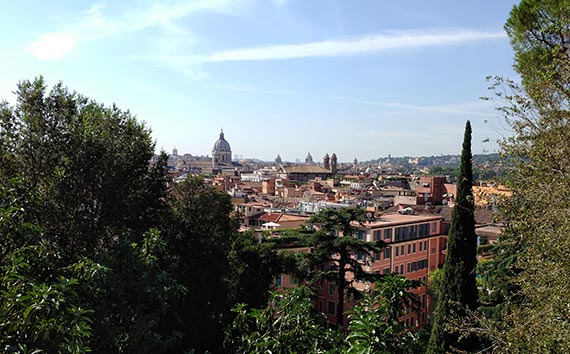 Click to enlarge
The zoo itself was a bit expensive (about €20 per person, with the aquarium passes), but it was nice to see some of the different animals that we don't have at our zoo in Saint Louis. Also, there was a new baby monkey, and who doesn't love baby animals? We were lucky enough to see him and his mother eating some grapes as a mid-afternoon snack: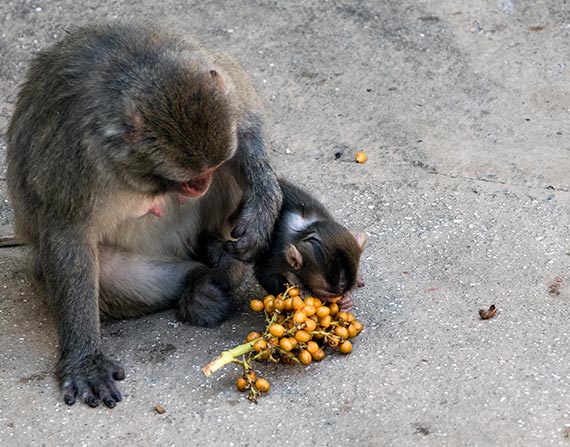 Click to enlarge
After a nice relaxing morning and early afternoon at the zoo, we started walking back toward the Colosseum. Though we toured it yesterday, our ticket also included the Roman Forum and Palatine Hill. We didn't have enough time to see them yesterday, and fortunately, our tickets were good for additional days. The ruins of the Roman Forum are certainly not to be missed, nor is the view from atop Palatine Hill: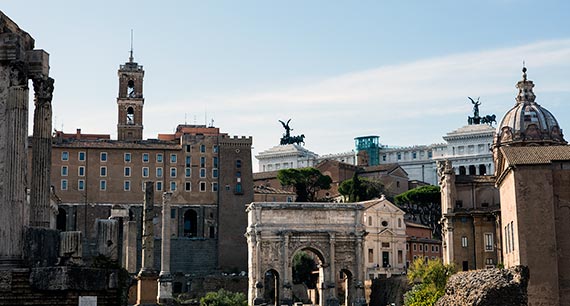 Click to enlarge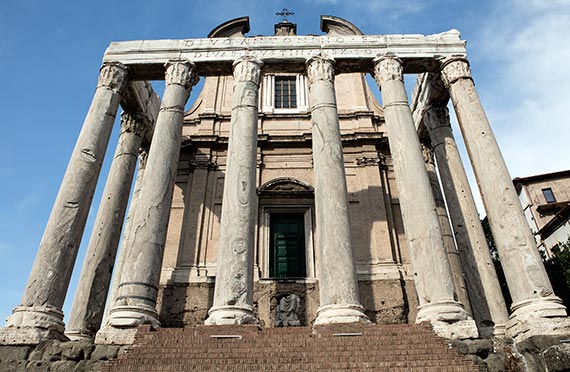 Click to enlarge
After that, we headed southwest along the River Tiber for some lesser-known sights. The first was Santa Sabina cathedral, which is situated on the top of Aventine Hill. It was a lovely church surrounded by beautifully landscaped grounds. There was an event taking place that evening, though, so it was a bit busier than I had anticipated.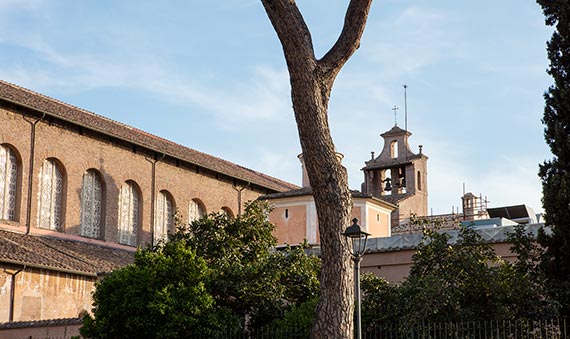 Click to enlarge
The second place on Aventine Hill was the Knights of Malta Keyhole, which is exactly what it sounds like—a keyhole. You may ask yourself "why would I want to see a keyhole?" and you would certainly be justified with that question. The reason is that through the keyhole is an astonishing view. It was difficult to photograph, (especially at dusk), but this will give you an idea: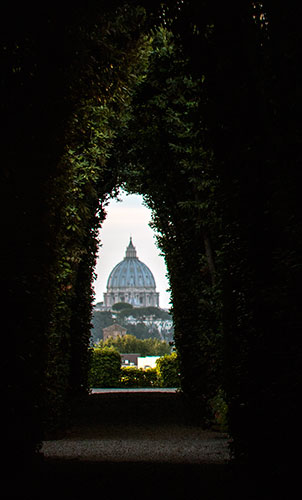 Click to enlarge
I was surprised that there was a queue leading up to the door, but I guess that the secret is out about the neat view. 😛 We didn't have to wait very long, though, and getting to see St. Peter's Basilica from this unique perspective was well worth it!
Our dinner reservations for the evening were not very far from the Keyhole at a restaurant named Lo Scopettaro. It is known for having simple and traditional Italian dishes, so we decided to order three different pastas and share them. We went with Tonarelli al norcino (a thicker spaghetti with sausage, onion, milk, and nutmeg), Tonarelli with tomato and basil, and Fettucine with porcini mushrooms. All three dishes were nice, but none of them jumped out at me as particularly fantastic. What did strike me, though, was a wine that I never saw coming. Lazio (the Italian region that encompasses Rome) has always been trumped in the wine world by Tuscany (its neighbour to the northwest), so when I ordered a relatively inexpensive IGT blend (of equal parts Merlot, Cabernet Sauvignon, and Petit Verdot), I wasn't thinking that it would completely wow me! The 2012 Casale del Giglio Madreselva definitely changed my perspective on not only Lazio as a wine region, but also blends with such high concentrations of both Merlot and Petit Verdot. Simply outstanding!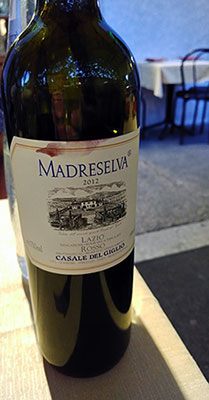 Click to enlarge
We caught a cab back to the hotel, and decided to make it an early evening since we have a private tour of the Vatican scheduled for tomorrow morning.
Cheers,
Zach