Arriving at FCO airport in Rome, we were a little tired after the overnight flight, but thankfully there weren't any problems! We waited for our luggage at bag claim (which, surprisingly, took nearly an hour), and then went to find our car. I had hired a car service through Fattori Car Service, and though it was a decent price to get from FCO to our hotel, I was a little disappointed. Our driver didn't pay much regard for safety, and drove unbelievably fast and erratically. However, we did make it to our hotel—the Assunta Domus— and unpacked our things.
In my opinion, the hotel was nicely located for the activities that we wanted to do whilst in Rome. One interesting aspect of the hotel was the security. We had four separate keys: one to get in the main door off the street, one for an inside gate, one for the outside door to the apartments, and then finally the key to our individual room. The room was a modern loft, and though it didn't have the "traditional Italian" feel to it, it was quite nice overall.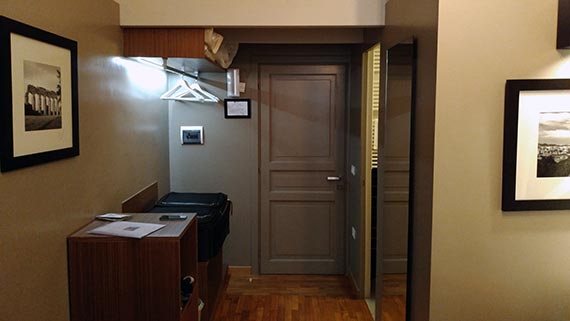 Click to enlarge
After I finished unpacking, I thought it would be best to try to find a little grocer to buy some things (like snacks, drinks, et cetera) for the room. I headed north on Via della Scrofa just a few blocks and found a little butcher shop called Volpetti alla Scrofa. As I perused the shelf of wines, I noticed a rather nice Falanghina for an astonishing €10! I picked up a bottle and headed back to the room so that it could chill in the fridge for later that evening.
Our first stop was to a coffee shop so that we could get a little "pick me up" after not getting much rest on the flight. I thought that it might be a good idea to try one of the most well-known cafés in Rome—Sant'Eustachio. I ordered an Americano, Deb got a tea, and we tried a couple small pastries. That's where the goodness ended, though. First of all, I asked for no sugar, but got it anyway. Second of all, and more importantly, I was immediately introduced to the idea of the coperto. Though the coperto, which is a cover charge or sitting fee, is forbidden in Rome, many restaurants and cafés get around it by charging a "service fee". Basically, we were charged €5 just to sit at the tables outside. Welcome to Rome! 🙁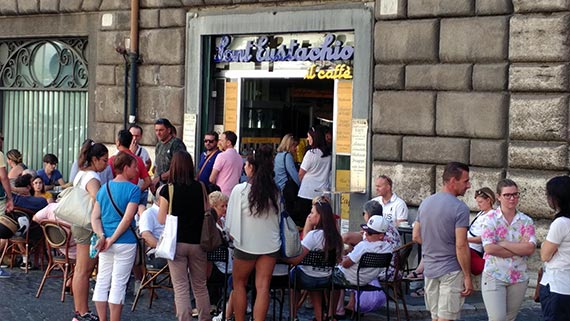 Click to enlarge
Okay, so that wasn't a great start. After our coffees, we headed just a few blocks away to The Pantheon. Neither words nor photos adequately describe the amazing hugeness or beauty of this building! It just seems to come out of nowhere when you round the bend.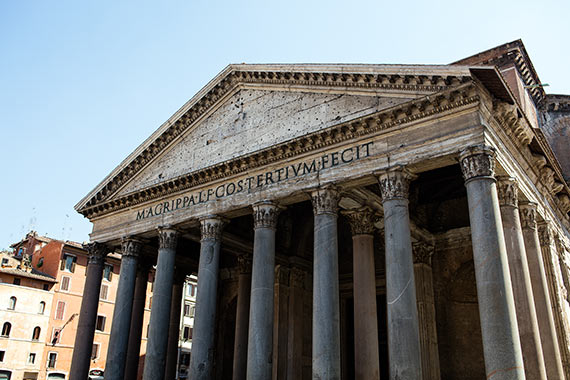 Click to enlarge
Though I couldn't use my tripod once inside the Pantheon, I tried to get some photos. A photo opportunity that jumped out at me almost immediately was when I looked up at the dome of the building. There was this beautiful column of sunlight traversing the magnificent stonework inside, and it looked like a portal to the heavens!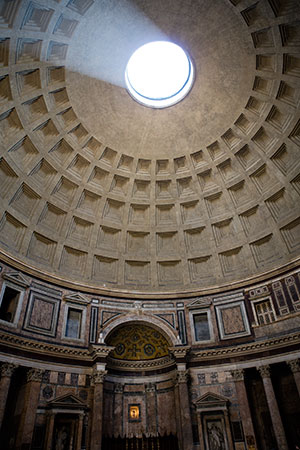 Click to enlarge
After the Pantheon, we took the ~15-minute walk to see Trajan's Column, which is located just north of the infamous Roman Forum (which we will be seeing tomorrow). It was this absolutely astonishing work of engineering, considering it was built in AD 113 and is about 30m tall! Not only that, but it's also comprised of 20 stones that equal about 29 megagrams (yes, ~29,000 kilograms)!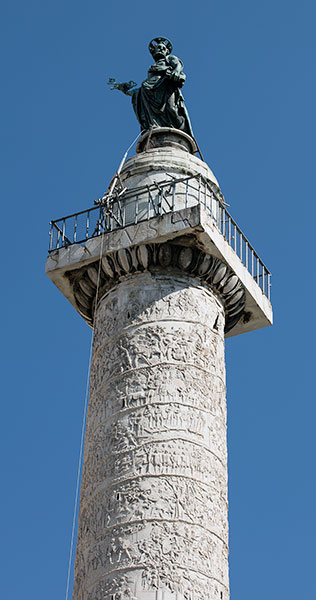 Click to enlarge
After standing in awe of Trajan's Column for a while, we headed about 10 minutes northeast to a museum called Scuderie del Quirinale, which was hosting an exhibit on Japanese Buddhism. Unfortunately, the exhibit wasn't very well outlined or explained, and the gardens outside of the museum were not accessible to the public. So, for the €12 per person, it was a bit of a letdown. However, there were some beautiful views of the city from atop the building from a wall of glass known as the "Great Window".
Our last attraction before heading to dinner was Trevi Fountain, which is famous for many reasons, but to me, the most important of which was its part in the lovely 1960s film La Dolce Vita. It was more beautiful in person that I could have imagined. The big drawback was the extreme amount of people there. I expected a lot of tourists, but it certainly does detract from the tranquility of the place.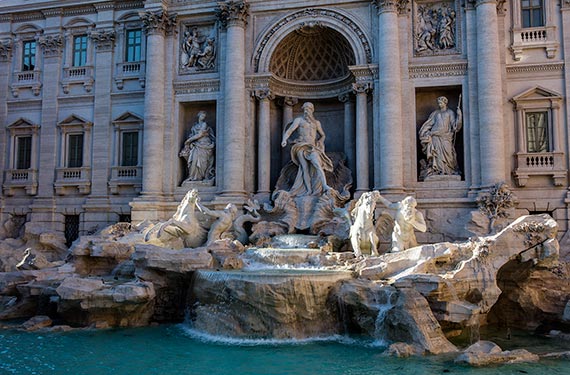 Click to enlarge
We then walked just a few blocks to That's Amore restaurant. Since we were eating early by Italian standards (19:30), we were seated promptly. It seems like we didn't need our reservations since we were there so "early". We started our meal with the Specialita Napoletana, which was a plate of hand-rolled pizza dough stuffed with various things like prosciutto, mozzarella and chicory. They were interesting, and I'm glad that we tried them. However, the stars of the show were our entrées. Deb had the Gnocchi alla Sorrentina, which were like little pillows instead of potato dumplings. They were served in a red sauce, and were wonderful. I had the long pasta with pesto, and it was cooked to absolute perfection. I like my pasta firm, and this was exactly what I expected from pasta in Italy! After our mains, we decided to split an order of Paccheri con calamari, guanciale e pecorino (squid, pork cheek, and cheese with wide tube noodles). It was also fantastic, and the squid was so nicely prepared that Deb had to ask which parts were squid (that's a good sign coming from someone that doesn't care for calamari). Also, based on the dishes that we ordered, Deb and I had a bit of role reversal in that I ordered the house white wine and she ordered the house red. She actually preferred her wine to mine! Who knows, maybe Italian reds will win her over. 🙂
On our way back to the hotel, we stopped at Giolitti for some dessert. As it is a well-known gelato parlour, we both had our first experience with the classic Italian frozen treat. I had fig and black walnut, and Deb got a mix of mango, peach, and cream. My favourite part of the experience was how bold the flavours were! You never had to guess what you were eating, and that made it a really enjoyable treat.
After our gelato, we walked back to the hotel to retire for the evening. However, me being a total glutton (or just really hungry from not eating much due to the flights) went a couple blocks north of our hotel to Antico Forno la Stelletta and ordered the most perfect pistachio tart that I've ever had! Back at the room, we finished off the evening with the bottle of Falanghina that I had purchased earlier this morning. We had to drink it from the plastic cups that were in the room. Normally, I would be pretty unhappy about not having wine glasses, but I think that I was simply too tired to care.
Day 1, down. There were some glitches, but tomorrow we embark on seeing more of The Eternal City.
Cheers,
Zach