Today I had the great honour of seeing an incredibly funny play at the Fox Theatre in Saint Louis, MO, USA. I went with two great friends to see Avenue Q, which is might be explained as "Sesame Street for adults." The show features Muppets, but includes profanity, alcohol, one-night stands, and truly deserves this label:

I knew that the performance would be entertaining and funny, but I had no idea that the cast would be so talented that one would forget within five minutes that there were people controlling the puppets. The actors mimicked the movements and facial expressions of the puppets, so they seemed to just become part of the background. The set was equally captivating; the foreground of the apartments on Avenue Q didn't change structurally, but the details–street lamps coming on in the evening, stars filling the sky, and neon lights blinking for the bar scene–transposed the set into a myriad of environments.
Some of the personal perks of the show (for me), were:
#5:
The connection of "Schadenfreude" to my Psychology of Humour and Laughter class.
#4:
The awkward silence after Rod's closing line during his 'I'm not gay' song My Girlfriend, Who Lives in Canada.
#3:
Trekkie's line in The Internet is for Porn, right before Kate says "I hate you men".
#2:
The Bad Idea Bears.
#1:
Getting to see the show with two great friends from Uni.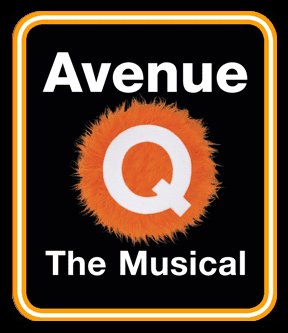 Overall, a great experience. 🙂
|:| Zach |:|
P.S. If you want to know what the lines were for #4 and #3 in the list above, just search for the Avenue Q lyrics. 😉 It's up to you to decide if you want to look up the lyrics, but these two think it would be a good idea: