Well, our 2018 trip to Austria, Slovenia, and Hungary ends today and we have to head back home, but not before one last moment of indulgence. We woke up early so that we could partake in the included breakfast at the hotel. As with everything else at the Aria Hotel, the breakfast was incredible! There was a full buffet of items, and we also were able to order some eggs. We each got an egg white omelette with some vegetables, had a couple breads, and ordered coffee / tea. I really enjoyed my croissant with some local fruit jams (especially the Apricot jam).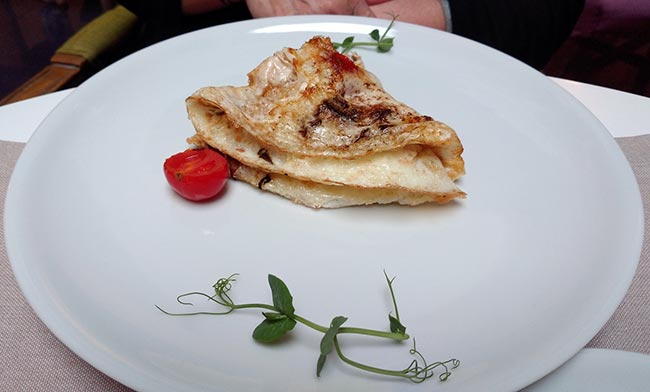 Vegetarian omelette at the Hotel Aria's complimentary breakfast
The staff at the Aria brought up the car from the valet parking lot, brought down our bags from the room, and loaded them for us. The whole experience there made it the very best hotel that I have ever had the pleasure of staying at!
We checked out, and drove back to Budapest airport. Despite the bit of traffic leaving the city centre, it was quite easy to get to the airport, and everything was clearly marked for returning the rental car. We got through security and on the flight without any problems at all.
So, what were the Top 3s of the trip (in my opinion)?
FOOD (okay, so I had to have 4 for this category)
Our main dish at Zum Kaiser von Österrich in the Wachau
The salad with seeds and roasted walnuts at Weinhaus Attwenger in Bad Ischl
The spinach dumplings at Sixta in Vienna
The mushroom tartare at Kirchenwirt an der Weinstraße in Ehrenhausen


WINE
Domäne Wachau's Pinot Noir
Domäne Wachau's Kellerberg Riesling
Weingut Tement's Vinothek Reserve Sauvignon Blanc


EXPERIENCES
The winery tours (Domäne Wachau, Schloss Gobelsburg, and Tement were amazing)
Going up into the mountains of Hallstatt
The entire experience that was the Aria Hotel Budapest—a music lover's dream and simply the most amazing hotel I've ever seen!